Great team and continuous learning keep the job interesting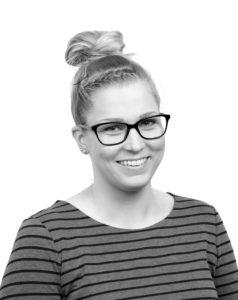 During nearly a decade at Administer, Minna has had many titles, starting as an intern and now working as Account Payables (A/P) Accountant. She gets inspiration from opportunities to develop, versatile tasks and, most of all, from working with a great team. Read what Minna says about her job.
Career development opportunities for those who want them
"I've truly built a career path here at Administer. I started as a summer trainee in 2012 and then stayed on as an intern working in A/P accounting. Following the internship, after I got my qualification in business management, I got a full-time position working as an A/P Accountant.
When the team manager took a maternity leave in 2014, I was asked to fill her position while she was gone. That year I also received the Colleague of the Year Award. This meant a lot to me. It's important for everybody to get enjoyment out of their work. To me the award was a recognition that I had succeeded in making this happen. In 2016 I was further appointed A/P Accounting Manager.
In 2017 I was on maternity leave. Now I'm working as A/P Accountant again. Returning from my leave, I wanted to have a less hectic schedule than I had as a manager. I'm very happy that it was possible to adjust my responsibilities according to my wishes.
My tasks have changed a lot during my years at Administer. There are great chances for career development here, as long as you have the will and the right attitude."
Colleagues help and inspire
"In addition to development opportunities, I really value the great team spirit we have here. I have amazing colleagues who are the key to enjoying work the way I do. Working in A/P Accounts is hectic work, sometimes also a lot of pressure. Without all great colleagues it would be hard. Administer's A/P Accounts works as a team and everybody helps each other out. This group of people has become very close to me over the years.
Flexibility makes it easier to have a good work-life balance. For example, at the moment I'm working remotely two days a week. Once again, the importance of the team can't be overemphasized: we keep each other up-to-date about everything that is going on. This makes remote work efficient and smooth."
Old and new in just the right proportion
"Lately, assisting in accounting has been a new challenge I've been excited about. When I think about my future with the company, I would like to keep developing in the area of accounting.
At Administer work isn't just routines. I value work that is not just repeating the same thing over and over again. Variation keeps things interesting and makes you challenge yourself. At the moment my work has just the right amount of old and new and the pace is right for my current phase in life. Our manager and team take people's different phases in life into consideration and adjust the tasks and responsibilities accordingly."