Versatile career paths and great employee benefits
We offer modern, comprehensive employee benefits to support our staff in all life situations and to promote a healthy work-life balance. All our employees have flexible working hours and a possibility to make other work time arrangements when needed.
We invest heavily in the training of our employees, because we know that the key to both business success and the well-being of our employees lies in development. We offer internally and externally organized training and materials.
Our employees are entitled to extensive occupational health care and we offer and encourage exercise, sports and recreational activities.
Our employee benefits include:
Extensive occupational health care (beyond minimum legal requirements)
Possibilities to work remotely
Opportunities for training and development
Versatile career paths
Lunch vouchers
Sports and culture vouchers
Massage during working hours
Possibility to book season tickets for ski centers
Reduced ticket prices for ski centers around Finland
Recreation events all year round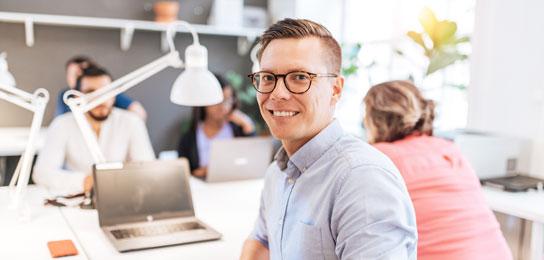 Join the Administer team?
We are a growing company and we are constantly looking for people for various financial management positions. We are also hiring Web and Product Developers who are excited about the opportunity to develop our services and technologies. If versatile career paths and employee benefits sound good to you, see our open positions (in Finnish) or send us an open application below. You can also get in touch with HR Coordinator Mari Pekkarinen (+358 40 358 5457).
Open positions